HUMBLE BEGINNINGS
The Chesapeake Bay has a special place in our hearts. Having grown up in the region, we have been exposed to the great aquatic life the bay has to offer.
Throughout the past couple decades, studies have shown drastic decreases of aquatic life in the bay. Since oysters are one of the most environmentally friendly water filters, we believe that our cause plays a significant part in helping the bay achieve new records in growth and cleanliness.
It is our passion to be working on the largest esturary in North America and to be a contributor to our Nation's Treasure. We strive to not only preserve but to create a way in which the bay can grow. Everyday - we are thankful to be a part of this unique movement of producing sustainable food while cleaning the ecosystem.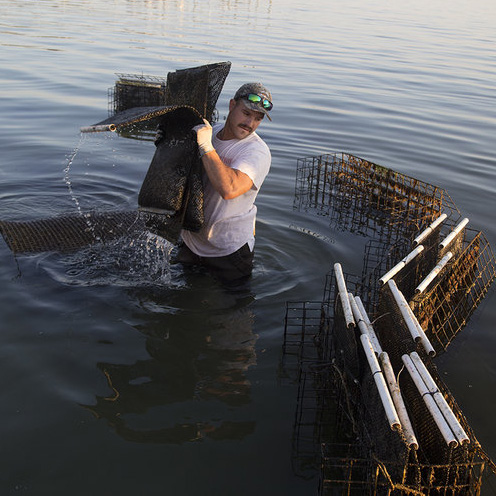 OUR FARM
With modern technology and scientific research, we have set up a farm on the Great Wicomico. The Great Wicomico river geographically lays in between the Potomac River and the Rappahannock River. What makes the Great Wicomico so unique is it's cleanliness due to the fact that there are no major run offs such as cities or power plants. This characteristic has made several research and environmental organizations put millions of oyster on reefs on the river.
Throughout the years, we have seen aquatic life surrounding our farm grow tremendously by scouting high numbers of species like striped bass, sea rays, blue crabs, turtles, dolphins, and even lined sea horses.
OUR INITIATIVE
Keeping the recovery of the bay in mind, we created the One for One Initiative™ - for every oyster purchased a new one is donated to our oyster reef sanctuary.
Currently our farm filters millions of gallons of water each week as a result of extensive research, modern farming techniques, and dedication to the overall cause.